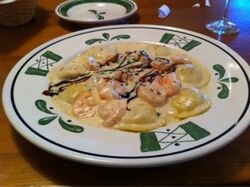 Have you ever not liked the meet or vegetables in your ravioli? Well now you can customize it to meet your wishes!
Normally, restaurants do not let you customize your ravioli, as it is pre-prepared. But that is different at Olive Garden! Ask nicely, and they will do all in their power to substitute or remove a vegetable/meat in your ravioli.
Users have reported that this is not common in all Olive Garden restaurants.
Ad blocker interference detected!
Wikia is a free-to-use site that makes money from advertising. We have a modified experience for viewers using ad blockers

Wikia is not accessible if you've made further modifications. Remove the custom ad blocker rule(s) and the page will load as expected.