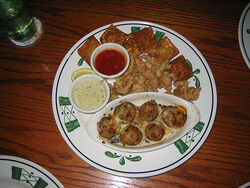 Olive Garden does have a sampler, after all!
Now at Olive Garden, you can mix-and-match your samplers, creating a meal 110% designed for you!
For example, if you wanted a sampler of three dishes, but all you like of the options was Chicken Parmigiana and the Calamari, you could get a second order of Chicken Parmigiana and simply enjoy the dishes you know you like, rather than take an expensive gamble on a dish you aren't certain of.
Ad blocker interference detected!
Wikia is a free-to-use site that makes money from advertising. We have a modified experience for viewers using ad blockers

Wikia is not accessible if you've made further modifications. Remove the custom ad blocker rule(s) and the page will load as expected.