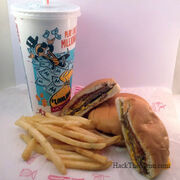 This "secret" item was created by McDonald's a decade ago. The 2-Cheeseburger Meal is one of McDonald's most famous secret meals. It was a staple of the old McDonald's Menu. In addition to the standard Cheeseburger Meal, you get another cheeseburger with your drink and fries.
It is available at all locations.
How to Order
Edit
You must simply ask for the "2-Cheeseburger Meal". You could also simply ask for a cheeseburger with your drink and fries and then order a second cheeseburger with it to beat around the bush.
Ad blocker interference detected!
Wikia is a free-to-use site that makes money from advertising. We have a modified experience for viewers using ad blockers

Wikia is not accessible if you've made further modifications. Remove the custom ad blocker rule(s) and the page will load as expected.